Share your art/ wins/ challenges of self-conquest, your dance to life! ♥
Sacred circles of our civilizations carriers, today...

Home: Dance Love and Respect Revolution > We Are One > Sacred Circles by Tilarenn Solèy (Turenne Joseph) | To my sons, our sons and daughters, you


We all carry within the essence of our civilizations endow in our sacred nature.
Sacred nature because we have enchored inherently the origin, the source, the soil which give us roots and elemental breath to essentially thrive high and above all that is limiting.
This awareness is fundamental to restore the compromised balance and harmony of the human chain sacred circles. 

We are Healers. We are Creators. We are One with the Earth, the Universe and the Divine.
Serenity is our aura, respect and joy are our motto.
We let every day be free from strife and fear. We let only respect, love, clarity and courage come near. With blessings given and received, we walk in love, gratitude and abundance in word and deed.
My venture towards balance and harmony of the human chain sacred circles brought the Circles of Our Civilizations notion, an inspiration which I ponder upon a little more than 20 years.

It was then an evidence. Today, it is a call stronger than anything and everything…

There was a need then to prove, through my ancestral lineage, my unquestionable existence rising from remarkably skillful and ingenious progressive civilizations.
Today's conviction is that it is essential for all of us to acknowledge the universal and nurturing well of our civilization's timeless spirit, always there within our reach, deeply rooted in us.
Indigenous, Kemet / Nubian and Caribbean civilizations uphold sacred circles keepers of an inextinguishable flame yet.
Bringing upfront and spreading at large the values of those cultures induce to elevate our consciousness and pierce through their underlying reality...
Seizing the flame, appreciating and integrating it with respect and integrity, ensures better balance and harmony in all, for ourselves and the whole humanity.

As a 15 year old, Danielle Janeria, literally went to High Court to challenge her school and the rest of the country....and won. Bringing upfront her cultural heritage entitlement induce to elevate consciousness.
Where does this daring spirit come from?

Born in Haiti, I carry Indigenous, Kemet / Nubian and Caribbean lineage in me, body and soul.

The Circles of Our Civilisations notion takes its roots in the days when I was a student in visual arts and languages at the University of Ottawa. I went more to the library than to my classes, though.

In fact, the great library of that renowned institution was overwhelmingly garnished with myriads of works on Indigenous, Kemet /Nubian and Caribbean art history and cultures. A gold mine in itself.

Believe it or not, in the cursus on art history, theories and practices, there was nothing about Indigenous, Kemet / Nubian  and Caribbean cultures, just as if they were non-existent.

This bias got strongly under my skin; it was a clear statement that I do not exist. However if we understand that We are One, rectification is essential.
I decided to bring light on humanity in its integrality. 
"A woman in harmony with her spirit is like a river flowing. 
She goes where she will without pretense and arrives at her destination ready to be herself and only herself."  
That's where this daring spirit comes from.

We are all indigenous
Did you know that we are all indigenous?
Indigenous people lineages are spread in all continents on the planet.

We're all conscious that they have been discriminate to the extent of eradication if not to the lowest denigration. In a lot of cases, it's been apparently a success.
However, here and there, there's evidence that they were able to keep alive the essence of the ancestral cultures they had inherited.
The memory of this legacy is in each and everyone of us.
Indigenous, Kemet / Nubian and Caribbean civilizations uphold sacred circles keepers of an inextinguishable flame yet. TORUK from Cirque du Soleil, in relation to James Cameron's Avatar story recalls the essence of indigenous spirit for balance and harmony with all that exist.
"He who can't conceive himself anew is dying." 
Sacred Circles of Our Civilizations' spirit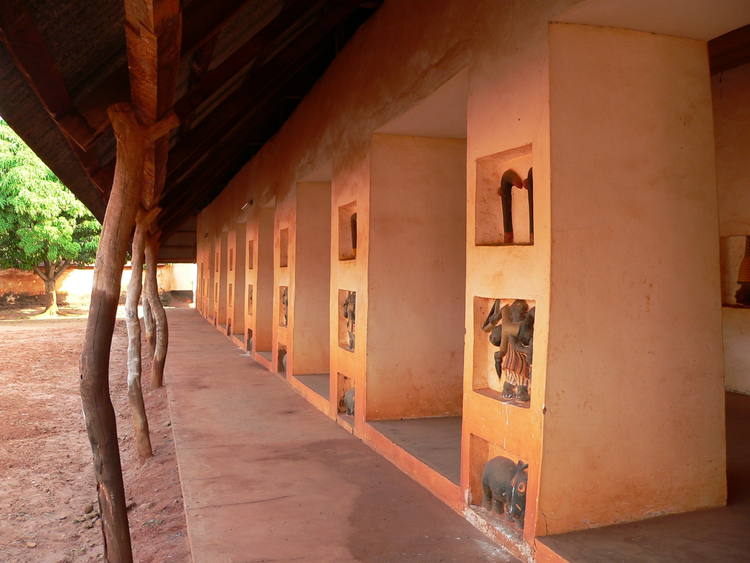 Royal Palaces of Abomey, Benin, as sacred memory reminder
The Circles of Our civilizations notion is an action based research with the starting point to claim the integral history of humanity from within and, from a growing awareness that all men's and women's misfortunes stem from not knowing how to dance life.
The project to demonstrate that indeed we are born to dance our lives, is the creation of Dances Spirit Sacred Circles of Our Civilizations.
This project is viable as a place of integrative assertion of our ancestral knowledge legacies, in position to serve, promote and share our ancestral art of living still present in Indigenous, Kemet / Nubian and Caribbean cultures.

This project is in its infancy.
The major structural foundations are visualized, consisting of:
structures for local and international exchanges to foster intangible heritage expansion


research center to foster intangible heritage exchanges


international library and fair trade boutiques


art and performance classes, thematic workshops on mindful presence wellness through conscious movements


theaters and studios for artistic, cultural exchanges and, rentals


sustainable business innovation models such as the Daana Generosity Concept


Dance Theatre Company in permanent residence


business center and residential real estate complex, to materialize the exchanges


Kadansenou.com introduce us to the essence and timeless spirit in Dances Spirit Sacred Circles of Our Civilizations' vision.