You are divinity. You are creation.

You are sacred nature anchored inherently at the origin, the source, the soil which gives roots and elemental breath to essentially thrive high and above whatever might limit you.
You carry this sacred nature within that knows the true essence of your greatness to nourish your blossoming plenitude.

This awareness of your sacred dance circles carriers sacred essence is fundamental to restore compromised balance and harmony.

You are One with the Earth, the Universe and the Divine. You are Creation and Healer. Love is your law. Respect, courage and fundamental joy are your weapons.
You live every day free from strife and fear. You let only fundamentally joyful love, respect, courage, integrity, discipline, and clarity come near.
With blessings given and received, you walk in love, gratitude and abundance in word and deed.
Calling you as sacred dance circles carrier to embrace and honor your ancestral divine and timeless essence, within.
Sacred Dance Circles Carriers

My venture towards balance and harmony of life's cycles brought Sacred Dance Circles Carriers' notion, an inspiration which I pondered upon a little more than 20 years.

It was then an evidence. Today, it is a call stronger than anything and everything…

There was a need then to prove, through my ancestral lineage, my unquestionable existence rising from remarkably skillful and ingenious progressive civilizations.
Today's conviction is that it is essential for all of us to acknowledge the universal and nurturing well of our ancestor's timeless spirit, always there within our reach, deeply rooted in us.
Indigenous, Kemet/Nubian and Caribbean civilizations uphold our sacred dance circles keepers of an inextinguishable flame yet.
Bringing upfront and spreading at large the values of those cultures induce to elevate our consciousness and pierce through their underlying reality...
Seizing and holding the flame, appreciating and integrating it with respect, courage and integrity, ensures better balance and harmony in all, for ourselves and the whole humanity.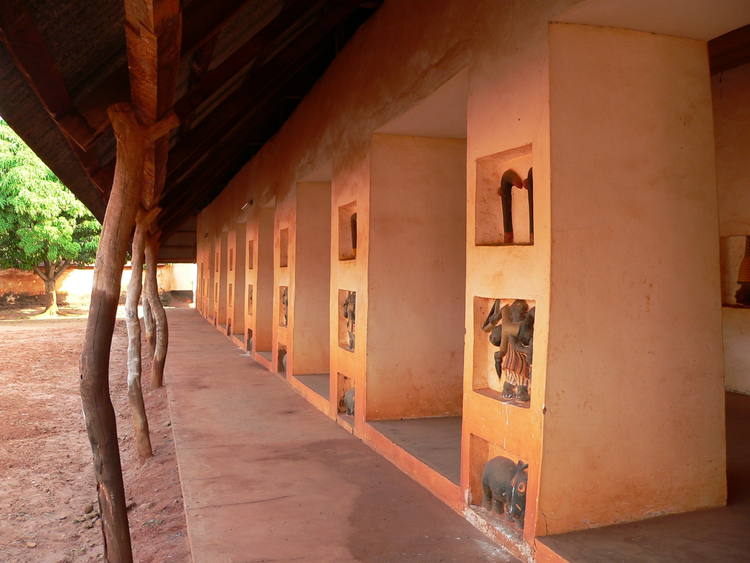 Royal Palaces of Abomey, Benin, as sacred dance circles memory reminder. This place is an example of energy memory connection to help align with the earth, the universe, our indigenous roots, and as sacred dance circles carriers.
Much more than a daring spirit 

Born in Haiti, I carry Indigenous, Kemet/Nubian and Caribbean lineage in me, body and soul.

Sacred Dance Circles Carriers revelation took place back in the days when I was a student in visual arts and languages at the University of Ottawa. I went more to the library than to my classes, though.

In fact, the great library of that renowned institution was overwhelmingly garnished with myriads of works on Indigenous, Kemet/Nubian and Caribbean art history and cultures. A gold mine in itself.

Believe it or not, in the cursus on art history, theories and practices, there was nothing about Indigenous, Kemet/Nubian and Caribbean cultures, just as if they were non-existent.

This bias got strongly under my skin; it was a clear statement that I do not exist. However if we understand that We are One, rectification is essential.
I decided that I must bring light on humanity in its integrality. 
"A woman in harmony with her spirit is like a river flowing. 
She goes where she will without pretense and arrives at her destination ready to be herself and only herself."  

~  Maya Angelou
That is why this venture is much more than a daring spirit.
We are all indigenous
Did you know that we are all indigenous?
Indigenous people lineages are spread in all continents on the planet.

We're all conscious that indigenous people have been discriminate to the extent of eradication, if not to the lowest denigration. In a lot of cases, it's been apparently a success.
However, here and there, there's evidence that indigenous people were able to keep alive the essence of the ancestral cultures inherited.
The memory and the blood of indigenous legacy is in each and everyone of us.
"He who can't conceive himself anew is dying." 

 ~   Bob Dylan
Sacred Dance Circles Carriers' essence

Sacred Dance Circles Carriers' essence is an action-based research which starting point is the premise to claim the integral history of humanity and recognition of the fundamental values of each person and all people on the planet.
You can recognize this integrity from deep inside.
This integrity brings our level of knowledge, our growing awareness, to recognize that all our misfortunes rhyme with not knowing how to dance love, respect and courage.
This integrity is embodied with the practice of recognizing your sacred dance circles rhythm revolution essence of love, respect and courage.

Revolution dance of love, respect and courage
Sacred Dance Circles Carriers affirm that the pathway rhythm revolution of love, respect and courage through our ancestral knowledge legacy, particularly of indigenous, Kemet/Nubian and Caribbean cultures, serves exemplarily the art of living, the art of being.

Wide spread education about our ancestral wisdom roots will help raise awareness of the sacred movement that is fundamental to balance and harmony in all, that every soul and every civilization that has a soul, must undertake. 
Our ancestral wisdom roots will guide our movement to the fullest possible living of all people, for all generations, towards worldwide balance and harmony.
Sacred dance circles carrier's integrity raises our level of consciousness to dance love, respect, and courage. Revolution of Love, respect and courage is a fundamental sacred movement that all people and all civilizations with a soul must undertake, and thus bring further better living integrally for all, within all generations, towards worldwide balance and harmony.
Sacred Dance Circles Carriers movement
Sacred Dance Circles Carriers movement's vision
Sacred Dance Circles Carriers is also a movement.
The foundation is visualized consisting of:
learn, apply, share for easy access to information, awareness building, and mobilisation.


local and international sharing structures to facilitate development of awareness and recognition of our tangible and intangible ancestral heritage.


research center to supply knowledge based sharing of our ancestral heritage.


dance and performance training, thematic workshops on better living, total presence and sacred circles dance carriers consciousness



innovative and sustainable business models such as the Daana Generosity Concept


real estate complex with residencies, studios, performance hall, international library, fair trade boutiques, baji and more to facilitate the materialization of sharing and exchanges.

revolisyon kadansenou.com introduce us to the essence and timeless spirit of Sacred Dance Circles Carriers' vision. 

World sacred dance circles principles 
We open our horizons to fundamental sacred movements in the world.
This is a path, in recognition of the divine essence you are the descendant, to integrate your sacred essence duly positioned among all sacred principles of the world.

Haiti: 12 Bwa Kayiman Principles as a heritage to recognize and reclaim


It is our privilege to be empowered through total presence.
I am heartfully obliged and pleased to have you here.

We slip into the world communities. We receive and sprinkle magical dance quotes.
We question sacred dance circles. We probe our vital energy. We explore arts and entertainments, dance academies and ethnic traditions. 
We learn dance simply & workout within our internal energy.

We shop and trade in conscious movement.

We become iworld with the planet rhythms.
We indulge in powerful presence through conscious movement revolution.
We unfold our appreciation of self-care to self-conquest. We blossom in total health and fitness and wellness. We move with timeless fundamental joy. We evolve towards balance and harmony.
We express the light that we are, in total positive agreements with ourselves.
Content Summary