International Dance Day:
Québec Message from Louise Lecavalier
Québec Message for International Dance Day 2019 | Louise Lecavalier
from
Québec Danse
on
Vimeo
.
Dancing...
Dancing to name the moment
Dancing the poetry of flesh
Transparent flesh
Screaming flesh
Dancing tight on the wire
Inventing every possibility
Dancing resilience and abandon
Dancing like a wild wiseman
Who's become his own guinea pig

Dancing face to face with our humanity
and the animal we are
Dancing with every complex
Inferiority and superiority
Dancing with a partner
that's something else
With a hundred or a thousand partners
How would that be?

Dancing the wealth of our miseries
or our share of humanity?
Making a dance step of every fall
Dancing without thinking
Dancing to leap outside of and then inside into ourselves

Dancing the ephemeral, sadness, dreams, the furious
Dancing innocent joy
'the more than human of all that's human'
Dancing to cleanse and rev the engines of our blood stream
Dancing the heart... cold blooded, hot blooded
Dancing the sacred, whirling dervish, hip-hop, krump, whacking, locking...Wow

Dancing because it's better to be a dancer than a criminal!
Dancing to please
Scoffing at the years
and continuing to dance
Dancing to dis-art-tic-ulate ourselves
Dancing the skeleton crick crack click click click click
Letting our bodies and heads explode
to finally be transformed
Dancing...counting
tac tac tac tac tac tac tac...without stopping at 8
to say thank you to life
until the ultimate recognition

Dancing like animated films in 2d, 3d and in endless directions
Dancing to not wear out the sweet word...love
Dancing dissolution...to leave...to stay
Finding the trance or the trend
Dancing because it's good that it hurts sometimes
Dancing because it's funny...strange...crazy
because it could change the world

Dancing to forget our names
with eyes closed and short of breath
Dancing the exercise, the exorcism, the exotic
the sensual, the sexual
Dancing one gender...no gender
he...she...LBGT, the alphabet

Dancing speaking...dancing boxing never hitting
Dancing sweat without fear
the brain in a cosmic hula hoop
A mental trip
Dancing down to earth
tears in the dust
Dancing on the graves
with a rhinestone but broken heart
and then what?

Ah...belly dance
Dancing to one's own music
Internal, electro, modern, acoustic
Dancing blue
completely dressed or naked as a worm
letting yourself go
Dancing despite it all...because of it all
Dancing the child
Innocent movements...turbulence

Dancing totally like giants.
*********
Credits
Message: Louise Lecavalier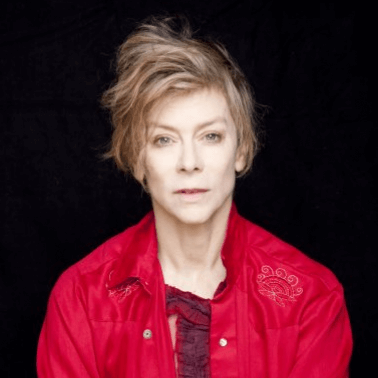 Lousie Lecavalier was associated with Édouard Lock and La La La Human Steps from 1981 to 1999, a time of rare intensity with legendary performances that included shock encounters with David Bowie and Frank Zappa. In those years, she incarnated an extreme dance that galvanized the creative imagination of a whole generation. Since founding her company Fou glorieux in 2006, her movement research, epitomizing her trajectory in dance, has been based on risk-taking and pushing her own boundaries. In 2012, she created her first choreography, So Blue, following this with Battleground in 2016. Louise has received many prestigious awards during her career.
Participants: Louise Bédard, Marc Béland, Shraddha Danielle Blaney, Valérie Chartier, Karla Étienne, Paul-André Fortier, Elinor Fueter, Claude Godbout, Lucie Grégoire, Liven Lamothe, Patrick Lamothe, Yuma Lamothe, Mia Lapierre Poirier, Louise Lecavalier, Robert Meilleur, Vincent Morisset, Linda Rabin, Janne Rieu, Romie Rieu, George Stamos et Philip Szporer.
Realization and design: Vincent Morisset
Art direction: Caroline Robert
Computer programming and learning: Édouard Lanctôt-Benoit
Photo direction: Thierry Sirois
Editing: Matthieu Vanier
Sound mix: Jean-Philippe Villemure
Production: AATOAA
Coordination: Coralie Muroni (RQD), Anne Viau (Fou Glorieux)
Production Direction: David Francke-Robitaille (Club Vidéo)
English translation: Jim Corcoran
Based on the interactive installation Vast Body de Vincent Morisset
Acknowledgement: Circuit-Est centre chorégraphique
quebecdanse.org